Approved Used Bike Program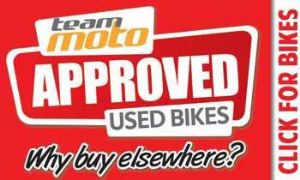 We understand that buying a motorcycle can be one of the most exciting times of your life, but can also be quite stressful. Whether you are completely new to motorcycles, upgrading or swinging the leg over once again after a few years away, you need peace of mind that you have the right bike for you, and it is mechanically sound.
Every Approved Used Bike goes through a rigorous 49-Point Visual Safety Inspection alongside their Safety Certificate where applicable, because we want you to enjoy every part of your journey. And, if you simply change your mind within the first 48 hours of taking your bike home- we will exchange for another TeamMoto Approved Used Bike of equivalent value, so you can be certain you made the right choice.
When you buy a bike with us, you become part of the TeamMoto Team. We've got you covered with 30 days Mechanical Protection Program free of charge on every Approved Used bike, because we stand behind our product and pride ourselves on outstanding service. And, if you join our free of charge VIP program you can enjoy a total of 60 days peace of mind that your ride will purr just like the day you got it, with an option to upgrade if you wish for up to three years against unforeseen mechanical issues into the future*.
With benefits such as towing, a loan bike, repairs and accommodation if needed* and flexible payment options, why risk it when you know we are with you all the way with the TeamMoto Mechanical Protection Plan.
Mechanical Protection Plan (MPP) is available to cover your New or Pre-Owned motorcycle purchase for most unforeseen mechanical failures. It is a Contract of Service between you the customer and TeamMoto and offers peace of mind, with no excess covering applicable components for both parts and labour, no matter where you are in Australia.
Mechanical Protection Plan (MPP) covers componentry such as*:
Engine components such as Piston and Inlet & Exhaust Valves
All internally lubricated mechanical parts within the transmission housing
Electrical components such as alternator and starter motor
Towing
Accommodation
Loan bike
And much more
*Mechanical protection plan levels and coverage depend on the type of cover chosen. Free Mechanical Protection Plan is only applicable on TeamMoto Approved Used Bikes, and is not transferrable. To be eligible for the additional 30 days Free MPP, purchaser must be a VIP member prior to the purchase of the vehicle and for the duration of the applicable period. Loan bike is for a maximum of 7 days, limits apply and vary by product. If a 1, 2 or 3 year Mechanical Protection Plan is purchased when you purchase your bike, this period will be in addition to any applicable provided coverage months. For full details and terms and conditions of the TeamMoto Mechanical Protection Plan and options available, please contact your local dealer.